Burning metals with a crazy hot arc is nothing to be taken lightly. A split second's carelessness can cause you harm that can't be compensated with anything. That's why welders should be very concerned about using the proper gear while working with scorching hot arcs to safeguard their eyes.
Using a welding helmet is probably the easiest safety measure you can take to keep your eyesight protected. But without darkening the welding zone, you won't be able to see through the lenses properly, and it also will put your eyes at risk. To make sure you don't harm your precious organs, you can always use the best auto darkening welding helmet.
Although there are thousands of such helmets available in the market, we have picked up some of the very best ones that you can rely on. In this piece, we are going to review 10 of the most useful welding helmets that come with auto darkening features. So without further ado, let's hop in!
The 10 Best Auto Darkening Welding Helmet Reviews
After spending more than 24 hours, our research team has unearthed the following 10 welding helmets with auto darkening features. We took multiple factors into consideration while picking up these gears. Read till the end to find out your match!
1.Miller Digital Auto Darkening Welding Helmet
We start it off with the Miller 280051 Digital Infinity Helmet. It's a lightweight gear that sits perfectly on your head without causing much pressure or heavy load on your skull. Plus, it comes with a wide viewing area to make it easier for you to get a clear picture of what you are working on.
Why We Love It
(+) Wide Viewing Area
You will have a 13.4 square inch pretty wide viewing area with this one. It gives you much more clarity than most welding helmets out there. That means it won't block the side views that we find on most cheaper alternatives in the market.
(+) Clearlight Lens Technology
Miller introduces the Clearlight Lens Technology on this helmet to optimize the clarity and contrast of what you see through the lenses. Making the most out of this technique, the welder lens can keep a lighter light state while you are not using the welder.
(+) X-Mode
When you are welding outside in the sun, the X-mode on the welder will automatically prevent the sun from darkening the lens.
Keep in Mind
(-) Poor Battery
Unfortunately, the batteries don't last long. You will face difficulty in using the crucial features of the helmet for a long period of operation.
2.Lincoln Auto Darkening Welding Helmet
Lincoln has always been a leading name when it comes to welding equipment. Building welding helmets that darken automatically is actually what Lincoln is considered an expert in. With the 4C lens technology in place, the K3040-4 Vikings 3350 helmet is a prime example of Lincoln's expertise in this field.
Why We Love It?
(+) 4C Lens Technology
The 4C technology that Lincoln has introduced in this helmet works towards enhancing the true color of your subject. This gives you the option to get the actual view of the puddle and the arc. It makes your welding work quite accurate and reduces strain on your eyes.
(+) Multiple Shades
The automatic darkening feature of the helmet ranges from 5 to 13. It will pick the most necessary shade you need while welding. It frees you from choosing the best shade for the clarity of your vision.
(+) Comfortable Wear
Designed to be as comfortable as it can be, the helmet is a proper headgear for every welder. It can distribute its weight on 6 different key contact points of the head to make it comfortable for our head. Plus, it includes padding and cushions for added softness.
Keep in Mind
(-) A Bit Slow
Some users complained that the auto-darkening feature takes a bit of time to engage, which can be irritating.
3.Hobart 770890 Auto-Darkening Welding Helmet
Another top-class Auto-darkening welding helmet is the Hobart 770890. While most brands focused on how to automate the darkening feature, Hobart chose a different route to make one of the best in the market. The 770890 welding helmet is made as a durable headgear that's crafted from strong Polymaide nylon.
Why Do We Love It?
(+) Excellent Build Quality
As we have mentioned, the Polymaide nylon-made headgear gives you the perfect protection from sparks and fire. Apart from that, even if you are putting the helmet aside on the floor, it's still won't be subject to any wear and tear for its amazing durability.
(+) Smart Arc Detection
The helmet lens comes with four separate arc sensors that can easily detect an arc. You will never lose your sight from the arc ever again, once you put this helmet on your head.
(+) Switch to Grind Mode
Having a switch to jump between welding and grinding modes is an excellent addition to the gear. You can change the mode just by clicking the switch on the side of the helmet. It lowers the shading system and clears the view for you to carry on grinding works.
Keep in Mind
(-) Uneasy to Change Switch
The grinding mode changing switch is inside the helmet instead of outside. This is really a painful experience to use.
4.Jackson Safety Auto-Darkening Welding Helmet
Jackson Safety 46101 welding helmet is the modern-day helmet you need. Its impressive digital control system lets you pick between different shades of darkening for the lens. You can also adjust the delay time for the darkening feature to be active. Apart from that, the safety standard of the helmet meets the ANSI Z87.1 codes.
Why Do We Like It?
(+) Wide Vision
Jackson Safety 46101 helmet features a 3.94 by 2.36 inches wide vision that gives you the optimum vision of your workspace. You won't miss anything crucial as it gives you the clarity you need working with a burning arc.
(+) Variable Shade
You can choose from 9 to 13 levels of darkening shades of the helmet as per your needs. Its digital control system allows you to alter between the delay times and other vision duration, as well.
(+) Compact Design
It has tried to change the perception of a welding helmet. Its HLX 100 shell is one of the most compact and narrowest headgears we have come across. This makes it pretty easy to move around, even in the tightest of spaces, with this one on your head.
Keep in Mind
(-) Weak Battery
The helmet uses a coin-type battery to power it up, which could have been even better for longer and more powerful support.
5.Yeswelder Auto-Darkening Welder Helmet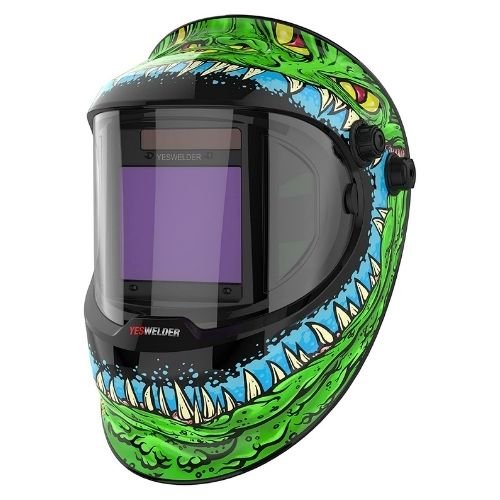 Say goodbye to the age-old 'greenish' view of a typical welder. Introducing – the Yeswelder LYG-Q800D-ME with True Color technology that allows you to see everything as you are to see without a lens in between your eyes and your subject. Plus, its wide panoramic view makes it quite convenient to consider every detail around you while welding.
Why Do We Like It?
(+) Excellent Viewing Option
The helmet lens gives you a super-wide 3.93″X3.23″ viewing area with a side-viewing option. This means you will be able to see through the welding helmet what's happening around you while welding with the arc.
(+) True Color View
It boasts a 1/1/1/2 optical clarity that makes sure you don't get stuck in the greenish world. The filtering option lets you see things in their true color to allow you to distinguish between different objects and arcs.
(+) UV/IR Protection
The lens on the helmet plays a brilliant role in protecting your eyes from UV and IR rays. It can effectively bounce the rays back to safeguard your valuable vision. Plus, this also serves you a better view with better clarity, as well.
Keep in Mind
(-) Poor Straps
After a while of use, the straps start to come loose and make it challenging to keep the helmet on your head.
6.Weldcote True Color Auto-Darkening Welding Helmet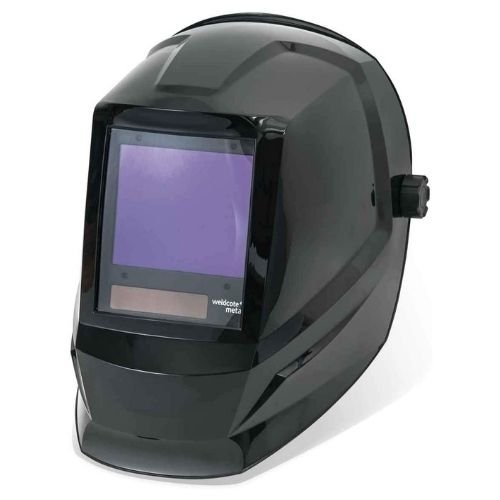 If you are looking for the best auto darkening welding helmet for the money, you can easily consider the Weldcote Metals Ultraview Plus. It's designed as a quite simple helmet, but it serves its purpose without a doubt. It comes as a surprise for most beginners as it doesn't cost you an arm.
Why Do We Like It?
(+) Fast Transition
It takes less than a second for the lens to act to switch from a non-welding mode to the darkening mode once it detects the arc. To be precise, the transition takes 0.08ms to switch between modes, which is absolutely mindblowing.
(+) 9-13 Shades
Then again, when you are welding with an active arc, you can pick from different shades ranging from 9 to 13. This gives you a choice to select the best shade that allows you the clearest view through the lens.
(+) Durable Construction
Made from special nylon material, the helmet is quite tough and durable. It can easily withstand enough impact and blow and at the same time resists scratch and wear. Apart from the durability, the helmet gives enough space inside for breathing.
Keep in Mind
(-) Default Shade Issue
If you are not using the helmet for a bit of time, it automatically selects the shade 5. So you have to choose the correct shade every time you resume welding.
7.Yeswelder Large Viewing Welder LYG-M800H-CP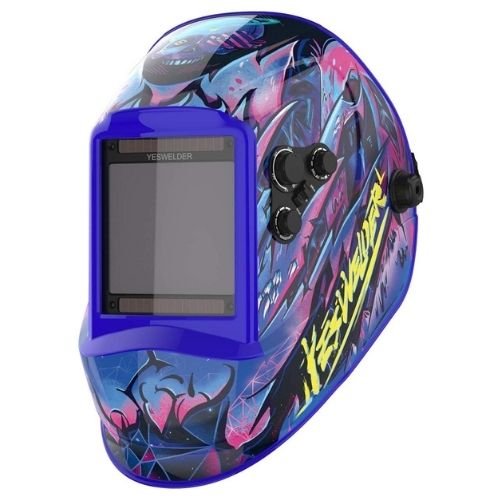 Did you love the LYG-Q800D-ME we reviewed earlier? If you did, then the LYG-M800H-CP is going to impress you even more. It's exactly what the LYG-Q800D-ME came up with but with more color and better design. The LYG-M800H-CP has better clarity in view with true color and a wider viewing range.
Why Do We Like It?
(+) True Color View
The improved lens on this helmet features 1-1-1-2 optical clarity that increases the red light view on it. Plus, it effectively reduces the green lime tint, allowing you to see the actual color of the object in front of you.
(+) Comfortable Wear
Its oversized design may not be the perfect one to move around in narrow spaces, but it does offer great comfort. The padding and cushioning inside make it really comfortable for the ears and your skull.
(+) Increased Battery Life
Unlike most cheaper alternatives in the market, the Yeswelder LYG-M800H-CP offers longer and better battery life. You will hardly need to change the battery in a short period of time.
Keep in Mind
(-) Sliding Mode Changer
The switch that changes the modes of welding is a sliding one that may cause accidental change without any intention. It should have been a step-by-step switch.
8.YESWELDER Large Viewing Welder LYG-M800H
Another addition to the Yeswelder large viewing welder series is the LYG-M800H. This one is an updated version from the Q800D and M800H-CP. It's super comfortable to wear and very fast to respond to arcs. It follows necessary standards and offers great battery life compared to most welders out there.
Why Do We Love It?
(+) True Color Technology
As usual, the LYG-M800H follows the MH00H-CP welder's legacy of true color technology. It allows you to see objects with their actual color format and makes sure you never misjudge anything due to the greenish view of a typical welder lens.
(+) Multiple Shades
The LYG-M800H comes with a range of darkening shades from 5 to 9 and 9 to 13. The darkening takes place automatically, depending on the arc you are working with. It takes less than 1/10000 seconds for the lens to respond, which is incredible.
(+) Follows Safety Standards
You can use the helmet without a shadow of a doubt because it perfectly follows the guidelines of ANSI Z87.1, CSA Z94.3, and EN379 CE code of standards.
Keep In Mind
(-) Poor Battery Holder Tab
The battery holder tab is quite fragile and prone to break down if you are putting much pressure on it.
9.TEKWARE Hemispherical Luminous Spider 77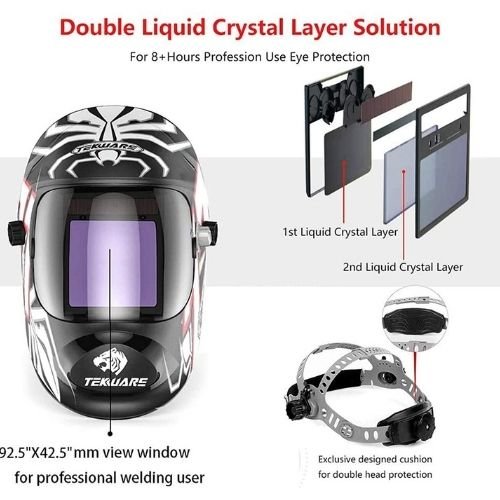 Tekware Luminous Spider 77 makes its way to our top 10 list with its signature hemispherical design. This one is a standout from the crowd with its excellent out-of-the-box design and prompt response to arc detection. It comes with 4 premium sensors that work great in improving your vision while welding on different objects.
Why Do We Love It?
(+) Fast Auto Darkening
The lens takes 1/10000 seconds to switch the lens from light to complete dark once it detects an arc. This is really helpful as it won't leave your eyes at risk with delays in switching between modes.
(+) Premium Sensors
Having 4 premium sensors, the Luminous Spider 77 is a perfect choice for different types of welding and grinding works. From TIG, MIG to Plasma welding, the helmet is a suitable choice for all types of welding applications.
(+) UV and IR Protection
On top of all, the helmet protects your head from UV and IR rays all the time. You don't need to use extra protection while working outside in the sun. The helmet itself is good to go.
Keep In Mind
(-) Glare Issue
Some users complained of a bit of glare from the top side of the lens, which may be a bit irritating.
10.HITBOX Welding Helmet LY800F
Finally, on our quest to find the best auto darkening welding helmet, we have the Hitbox LY800F welding helmet. It's a perfect headgear for nearly every type of welding we do. From TIG MIG MMA to even Plasma welding, the helmet is going to be a great match for every such complex welding procedure. Let's find out more.
Why Do We Love It?
(+) Optical Clarity
The lens on the helmet comes with 1/1/1/2 optical clarity coupled with the True Color technology. This combination ensures that you can see everything with utmost clarity and true color. No more greenish lime view to get confused.
(+) Large Viewing Area
Its 3.94″X3.66″ wide viewing area outperforms most other premium welders in the market. The wider view allows you to see everything around you without any blockage. Plus, its intelligent design also makes it easy for you to sneak a bit of a side view, as well.
(+) Comfortable Wear
Even though the UV and IR-protected helmet is a heavy-duty one, it doesn't compromise comfort. This oversized gear comes with enough cushion and padding inside to provide soothing comfort for your skull. Plus, you can easily adjust the size according to your skull size for a better fit.
Keep in Mind
(-) Lens Not Replaceable
The outside front curved lens is a permanent one. You can't replace it once it has a scratch or dent.
How to Choose the Best Auto Darkening Welding Helmet?
Now, before you pick the best auto darkening welding helmet for you, make sure you consider the following factors.
Weight and Comfort
Not all auto darkening helmets are going to be lightweight and comfortable. Try to pick the one that is a bit lightweight and puts less pressure on your head. Plus, check if there's enough padding and cushion in it to keep your skull and ear comfortable inside.
Viewing Area
Ideally, the wider the viewing area, the better it is for the best welding experience. Do not confine your vision to a smaller area; it will definitely make it harder to achieve perfection. Any viewing area from 3.5″ x 1.75″ to 4″ x 3″ should be considered a wide viewing zone.
Optical Clarity
The lens of the welding helmet is rated with some numbers for clarity. The numbers vary from 1 to 3, with 1 being the best and 3 being the worst. Try to pick the one that comes with a rating of 1/1/1/1. If that's not possible, at least try to manage something with a rating of 1/1/1/2.
Arc Sensors
Arc sensors can automatically detect an arc flash that helps the lens to immediately switch to darkening mode. The more the sensors, the faster the switching will take place. Most top-class brands prefer 4 premium sensors, and you should be focusing on those units, for sure.
Lens Reaction Time
The lens reaction time refers to the time it takes to change from a regular lens to a darker lens with arc detection. The fastest reaction time would be 1/20000 seconds, but you can easily settle down for any helmet that offers 1/10000 seconds of reaction time.
Safety Standards
And finally, make sure that the helmet complies with some of the crucial safety standards for your safety. If the welder follows the current ANSI Z87.1 – 2003 safety standard, it is good to go.
Frequently Asked Questions
Can welding helmets provide safety from UV rays?
Most reputed brands in the market produce helmets that prevent both the UV and IR rays pretty successfully. You need to check the specs before you buy one.
Can you use an auto darkening welding helmet for grinding?
Yes, some of the best auto darkening helmets come with a grinding mode. You can easily switch from welding to grinding within seconds.
Can you replace a welding helmet lens?
Yes, some of the best auto darkening helmets come with a grinding mode. You can easily switch from welding to grinding within seconds.
Final Words
Choosing the best auto darkening welding helmet for your welding job is the best thing you can do for yourself. It's not only going to protect your eyes from harmful rays from the welding area but also going to keep the welding zone easily visible for you to attain the perfection you long for.
We hope the helmets that we have reviewed here serve your purpose. If you are not sure where to begin, we would like to suggest you pick the Miller 280051 Auto Darkening Welding Helmet for its amazing ClearLight lens technology. It also prevents both IR and UV rays, as well for added protection. You can definitely start your welding journey with this one right away!
Happy Welding!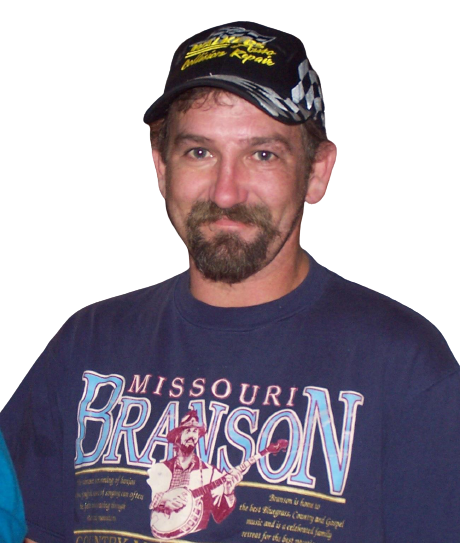 Hey this is Robert from Weld Gallery.
We have experience in welding for the last 5 years and I own a lot of welding equipment from different companies. We know good quality welding tools are very difficult for newbies and that is why we have created this blog to help the welding newbies and welders.