Even if you are spending more than what you budgeted for, a regular welding helmet won't give you the actual picture while you weld. That greenish view does give you a robotic vision of what's going on, just to reduce the glare from the arc. Luckily enough, this doesn't have to be the case all the time.
If you are using the best true color welding helmet, you can easily see the most realistic view of your welding area without compromising the safety of your eyesight. That's who true color representation works! It maximizes the greenish contrast and increases the reddish color of the object for a better and more realistic view.
If you are like, 'wow, I was actually looking for something like this' – welcome to this piece! We are going to explore 10 welding helmets that show you the true color of your welding objects! If you are ready, let's jump right into it!
Top 10 Best True Color Welding Helmet Reviews
The following 10 true color welding helmets are what we have unearthed from a large pool of helmets out there. It's tough to pile up 10 from hundreds, but depending on some of the crucial features like response time, wider view, and quality, we did manage to pick up these helmets. Let's find out what we have extracted!
1.YESWELDER Large Viewing True Color With Helmet catch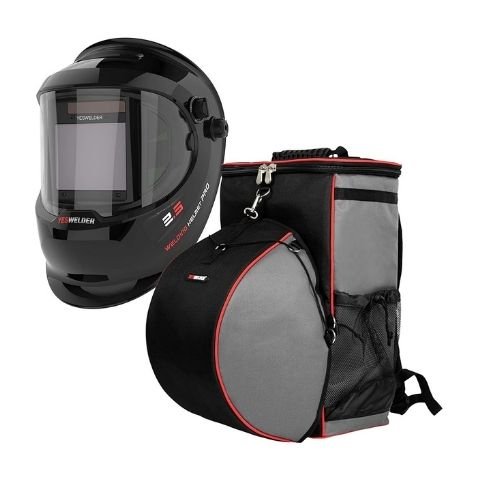 With an impressive 1/1/1/2 optical clarity, the Yeswelder Large Viewing welding helmet tops our list for the best true color welding helmet. The helmet comes with a combo offer that includes a helmet bag, as well. You can easily carry it around inside the bag for added convenience and support.
Why Do We Love It?
(+) Panoramic View
The best part of this helmet is its excellent capacity for view. It lets you look ahead of you as much as possible, leaving no chance to miss a single tiny object from your workspace. Its 180-degree panoramic view makes it easy to get a wider vision while welding.
(+) Premium Sensors
Its 4 premium sensors on the lens allow it to detect an arc as fast as possible. The sensors work brilliantly to pick up any light source that an arc creates and helps the darkening feature to be activated.
(+) Optical Clarity
Apart from the fact that the lens lets you see the true color of the objects, it also has a 1/1/12 rating for clarity. You can literally see everything around you in its real form, and no distortion will take place at all.
Keep In Mind
(-) Need To Buy The Combo
This helmet comes in a combo offer, so you can't buy the helmet alone. You need to go for the bag, as well.
2.YESWELDER True Color Welding Helmet
Another Yeswelder welding headgear that you should definitely consider is the LYG-Q800D-ME. The headgear comes with three different modes of operations – Welding, Cutting, and Grinding. It has a single switch with three different modes that can easily be slid between. Moreover, the premium 4 sensors used in this helmet allow it to switch to darkening mode within slip seconds quickly.
Why Do We Love It?
(+) Large View Option
The lens allows you to view as much as possible when you need it. Its 3.94″X3.23″ wide viewing option doesn't restrict you to a narrow vision. Plus, it also makes it easier for you to have side views, as well.
(+) Pivot Style Headgear
One of the key perks of having this helmet is its pivot-style headgear system. You can easily put it on your head, and it will stay stuck to your skull without creating much pressure on your head. You won't be able to drop it even if you shake your head.
(+) Long Battery Life
Contrary to most common welding helmets we find nowadays; this one comes with longer battery life. You don't need to change the battery every now and then. One single battery can support a decent period.
Keep In Mind
(-) Stepless Switch
The step-less sliding switch can be a bit challenging to handle, especially when you are working with the arc. So be careful.
3.Tekware Hemispherica Large Viewing Auto Darkening Welding Helmet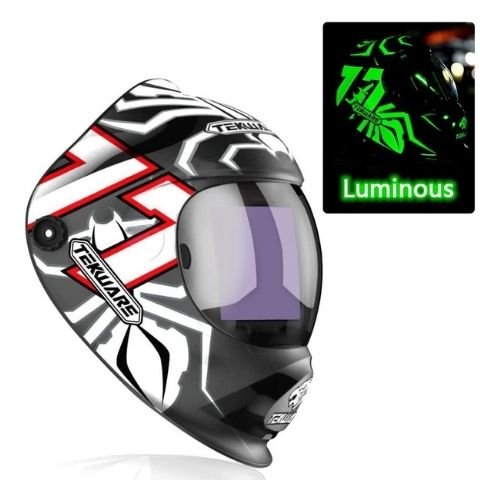 The Tekware Hemispherica welding helmet is a widely popular welding helmet for most professional welders. It's pretty special for its double liquid crystal layer that protects your eyes for around 8 hours at a stretch. Plus, it also offers excellent clarity at an optical rate of 1/1/1/2. On top of that, the helmet is completely hemispherical in design and provides all-sides protection to your head.
10 Best Auto Darkening Welding Helmet Review
Why Do We Love It?
(+) Unique Hemispherical Design
Its stand-out hemispherical design is quite useful when it comes to protecting your head and face. The helmet surrounds your entire facial area from all sides, leaving no chance for a spark to cause harm to your skin.
(+) Long Battery Support
The battery support on this helmet is pretty great. It lets you run the device for a long time. However, if you are running out of power, it can recharge itself from the attached solar panel. This gives it a better battery life than the others in the market.
(+) Fast Darkening
Its auto-darkening option activates within 1/10000 seconds. This is a crazy speed for such a transition, and it does it brilliantly. Apart from that, even if the electricity fails, the lens will protect your eyes from UV and IR rays.
Keep In Mind
(-) Not For TIG Welding
The helmet is not quite suitable for TIG welding. If you are planning for anything other than MIG welding, this might not be the best choice for you.
4.Yeswelder LYG-17800F-ST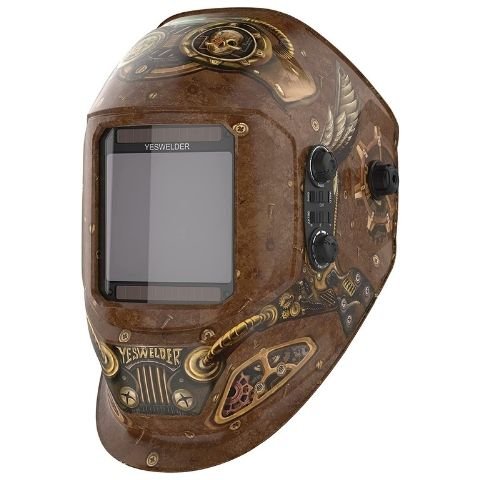 The LYG-17800F-ST from Yeswelder is a perfect helmet for you if you are looking for something that comes with a grinding feature. This advanced welding helmet allows you to enjoy a wide view of 3.93″X3.66″. With true color technology, you can now see good things in even a better way. Coupled with that comes the 4 premium sensors that effectively detect arcs to act immediately to save your eyesight; the welding helmet works as great support for any welder.
Why Do We Love It?
(+) Super Large View
The very first reason for us to pick this one up is its impressive 3.93″X3.66″ viewing area. You can push your limited vision through the lens on it and make sure you don't miss anything crucial due to low visibility.
(+) Pivot Style Headgear
Wearing the helmet for a long time means it needs to be comfortable enough for your head. That's what Yeswelder has emphasized while crafting this one. It comes with a pivot style design that fits to your head with padding and cushion for comfort. It won't hurt even if you are wearing it for hours.
(+) Safe Helmet
The helmet meets some of the most required technical and safety standards for welding helmets. It complies with both ANSI Z87.1 and EN379 standards.
Keep In Mind
(-) Not For Long-term Welding
Although the welding helmet is a great one for starting off, it's not the best of the choices for a long-term commitment.
5.YESWELDER Large Viewing Welding Helmet LYG-M800H-CP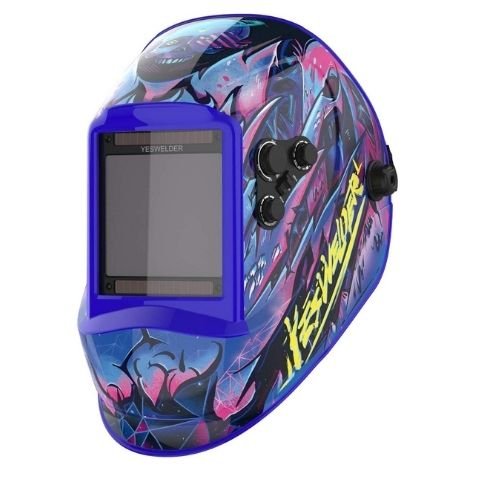 Another top-quality Yeswelder helmet on our list is the LYG-M800H-CP true color helmet. This is an update from the previous LYG-17800F-ST from the same makers. Its true-color technology effectively reduces the green light from the vision and increases the red light for a better and clearer vision for you. Its 1/1/1/2 optical clarity rating tells the whole story.
Why Do We Love It?
(+) Super Fast Darkening
The automatic darkening feature responds pretty fast. It takes less than 1/10000 seconds for the lens to go from regular to darkening mode. That's crazy fast, and it can save your eyes from getting damaged from sudden exposure to a burning arc.
(+) Excellent Battery Life
It comes with a replaceable CR2450 battery that offers really long life. You will hardly need to replace it every other month as it will easily keep you powered for months ahead. On top of that, the helmet can also be powered by solar power, as well.
(+) Wide Viewing Option
The best part is, you have a 3.93 by 3.66 inches wide viewing option. It lets you see everything around you loud and clear and prevents any sort of blockade of vision. This works pretty well for sophisticated welding.
Keep In Mind
(-) No Side View
You won't be able to see through the sides while wearing this helmet.
6.YESWELDER EH-091XL Welding Helmet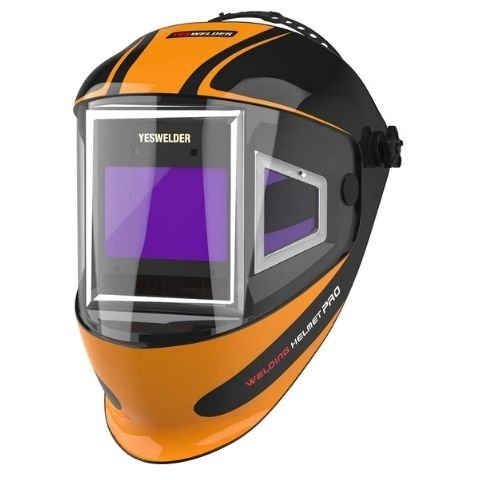 This is perhaps one of the best welding helmets Yeswelder has ever produced. Considering its amazing clarity and true color representation, the welding helmet is just what you need as an avid welder. It comes with 3 LCD screens to give you a 180-degree Panoramic view to make sure you don't miss anything crucial.
Why Do We Love It?
(+) Impressive True Color
The EH-091XL probably provides the best true color representation among most other welding helmets out there. Its impressive 1/1/1/1 optical clarity definitely brings life to the scene in front of you through the lens!
(+) 180-degree Panoramic View
There are 3 different LCD screens set on the welding helmet. One in the front and the other two on both sides of the helmet. Together, these screens give you a 180-degree panoramic view to have a wide range of vision necessary for accurate welding.
(+) Comfortable Headgear
Another promising feature of the helmet is its oversized comfortable headgear. It nicely fits your head with a comfortable cushion that gives you the perfect fitting you need for a long day of work! Plus, you can always adjust the size and the settings as per your needs!
Keep In Mind
(-) Lighter Lens
The lenses are lighter around all the corners; it may reflect a bit from the arc.
7.PROWELD Panoramic PW-YC10-B-US Welding Helmet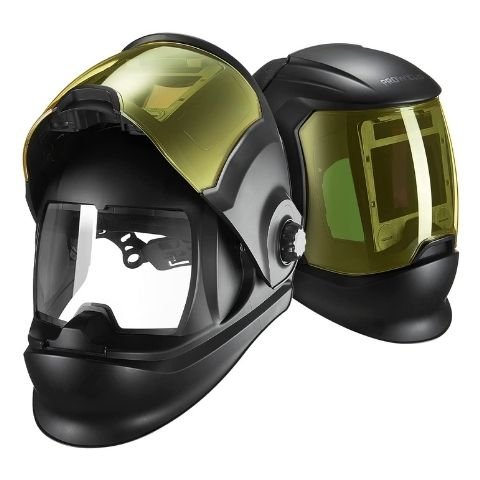 Powerweld has nailed it with the PW-YC10-B-US welding helmet. This one is more than just a helmet; it's complete protection and brilliant headgear. The helmet is crafted from high-impact resistant nylon to make it pretty much flexible and absolutely strong at the same time. On the other hand, it withstands up to 131-degree F temperature without any issues!
Why Do We Love It?
(+) Fastest Switching
The auto-darkening feature of the helmet allows one of the fastest switching times that we have seen so far. It takes literally around 1/25000 seconds to activate the darkening mode detecting an arc. There are 4 premium sensors for detecting arcs that work pretty effectively.
(+) Strong Build Quality
Even though the helmet is pretty strong and enduring, it is quite flexible, too. That's because it is made from high-impact resistant nylon. It ensures that the helmet's outer shell can withstand heat up to 131-degree F and can be pressurized to a certain level at the same time.
(+) Excellent Clarity
This helmet is probably one of the rarest ones that come up with a 1/1/1/1 optical clarity. That's why wearing this helmet, having a clear vision won't be something you need to worry about anymore!
Keep In Mind
(-) A Bit Heavy
Although it's a great helmet to wear, it also comes with a heavy profile. You need to make sure you can carry it on your neck.
8.TEKWARE True Color Solar Powered Auto Darkening Welding Helmet
Those of you who work for a long time should find a helmet that doesn't cause fatigue and pressure on your head. If you ask us, we would suggest you pick the Tekware Anti-Fog welding helmet. There are plenty of reasons behind it. It's lightweight and fits perfectly without making you feel congested. Moreover, its anti-fog design makes sure no fog is formed inside, which adds to the benefit of working long hours.
Why Do We Love It?
(+) Wide Screen
Apart from the front LCD screen, the helmet has two more screens on its sides. This way, you get a 180-degree panoramic view of your surroundings while working. That means you won't be blinded by your sides and can always be aware of everything around you.
(+) Anti-fog Design
No matter how long you are wearing the helmet, it will not cause fog formation inside. This means you can have a better view through the crystal clear screen. Plus, its 1/1/12 optical clarity adds to the clarity of your vision, too.
(+) Better Red Color View
Because of its true color representation, the LCD automatically reduces the green color lime tint and increases the dominance of the red color. This gives you a perfect vision of the true color of the object for better operation.
Keep In Mind
(-) Dark Line
If you choose the darkest setting, a weird dark line will appear in the middle, which may be a bit annoying to work with.
9.Yeswelder LYG-Q800D
The LYG-Q800D from Yeswelder is yet another top-class helmet to work with. Its functional three different modes let you choose between different types of weld works. Just a click of a switch can change the mode from welding to grinding or cutting. It has 4 powerful sensors that can automatically detect an arc and act accordingly to darken the screen to protect your eyes.
Why Do We Love It?
(+) Versatile Helmet
This helmet is a proper headgear for most common welding methods. You can conveniently use this for MIG, Plasma, MMA, or even grinding. It has different modes for different welding methods for better vision in different scenarios.
(+) 3 Modes of Operation
A toggle switch on the side of the helmet lets you change the mode of the screen from welding to grinding and cutting. If you select ground, the sensors will stop detecting an arc. For the cutting mode, the shade will offer you the range from 5 to 9, while in the case of welding mode, it's 9 to 13.
(+) Wide View
Impressively, the welding helmet offers a wide view, including side visions. Its 3.94 by 3.23 inches of clean vision allows you to keep your eyes on a range of width.
Keep In Mind
(-) Poor Adjustment Straps
The straps of the helmet don't seem to be of great quality and are prone to break in the long run.
10.Yeswelder LYG-S400S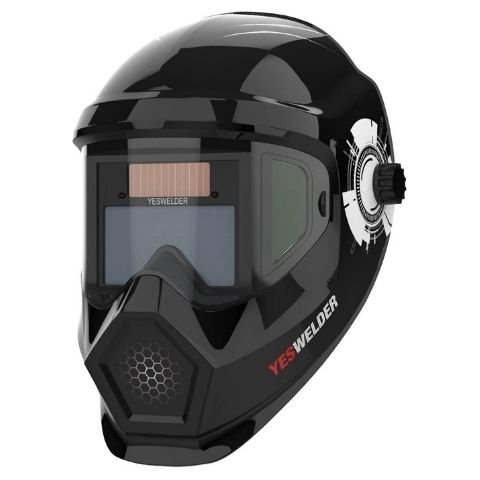 Finally, we wrap our reviews for the best true color welding helmet with the Yeswelder LYG-S400S. This one is quite famous for its ultra-wide view from both the front and sides. It has 4 powerful arc-detecting sensors that activate the darkening shades in 1/10000 seconds. You can use the shade from a range of DIN 9 to 13 for the most suitable clarity depending on the welding type.
Why Do We Love It?
(+) Wide Vision
Its 4.33 by 2.37 inches wide front view lets you pick up everything in front of you without blockage. Plus, the helmet has provision for side views, as well, giving you a complete 180-degree viewing option.
(+) Solar Powered
Apart from the regular battery, the helmet is also powered by a solar panel. If you are using it out there in the sun, it will automatically recharge itself for longer operation.
(+) Quick Response
The auto darkening feature depends on the arc detection sensors that can pick up an arc in split seconds. Its darkening sensors take immediate actions to darken the screen in 1/10000 seconds.
Keep In Mind
(-) Battery Drain
Even after being recharged by solar power, the battery gets automatically drained without even using it.
What To Look For Before Buying The Best True Color Welding Helmet?
Before you spend your precious bucks on a welding helmet, make sure the gear comes with the following features.
True Color
Of course, this is the first thing to check out. Check for the true color representation of the helmet and see if it meets the standards. Such gear will increase the reddish color in the spectrum and give you a better view.
Weight
Don't go for something that comes with a heavyweight profile and puts a lot of pressure on your head. It will cause fatigue, and you won't be able to work for long hours. Go for something lightweight.
Viewing Area
Try to pick up the one with a wider viewing area. Anything between 3.5 by 1.75 inches to 4 by 3 inches should be considered as a satisfactory viewing range. Plus, look for the side viewing area, as well, for having a 180-degree vision.
Optical Clarity
To make the most out of the true color technology, the helmet must have excellent optical clarity. It's a rating system that is represented by the numbers 1,2, and 3. The best rating is 1/1/1/1. So, any helmet with a rating closer to the best one should be your priority.
Arc Sensors
The more functional arc sensors you have in the helmet, the better it will detect an arc and automate the darkening feature. Try to settle for a gear that has at least 4 such working sensors.
Frequently Asked Questions
What is a true color welding helmet?
Basically, a true color welding helmet alters the lower green contrast into a higher contrast that absorbs the other colors for a better and more realistic view of the object in front of you.
Are true color welding helmets any good?
Of course. True color welding helmets let you see the actual scenario before you with a reduction in green lime tint for better quality. It represents the true view of the object.
What is the clearest welding helmet?
Although there are many welding helmets that offer a pretty clear view, any helmet with an optical clarity rating of 1/1/1/1 should be one of the clearest ones.
What is the best shade for a welding helmet?
According to AWS and ANSI standards, welding at 60 to 160 amps requires shade no 11, and 160 to 250 amps require shade no 12. Anything above that requires shade no 14.
Final Words
Going for the best true color welding helmet doesn't mean you need to reach the bottom of your pocket. According to the list we have prepared here, you've got a number of options to select from at a fairly lower price than usual.
However, you must ensure that you are going through the buying guide we have made to make sure you are not paying your bucks for a poor-quality helmet. If you ask us, we would recommend you to pick the YESWELDER Large Viewing True Color With Helmetcatch that offers an amazing true color vision. Plus, it comes with a helmet carrying bag, as well, which is a fabulous deal without a doubt.
Happy welding!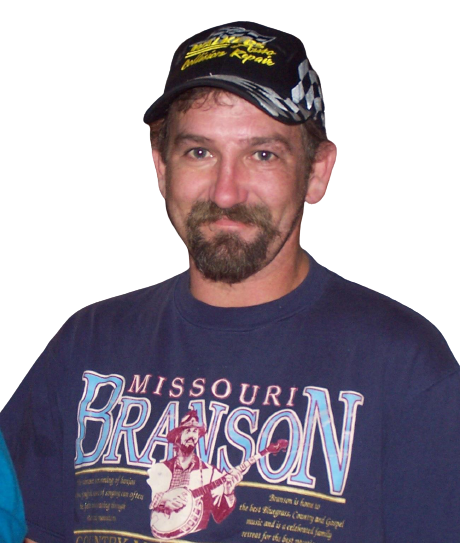 Hey this is Robert from Weld Gallery.
We have experience in welding for the last 5 years and I own a lot of welding equipment from different companies. We know good quality welding tools are very difficult for newbies and that is why we have created this blog to help the welding newbies and welders.